In our previous article – the first of three parts on this subject – we discussed how the paramilitary approach to law enforcement began in earnest under Daryl Gates' LAPD in 1967 and grew from there. SWAT teams – as they came to be called – were originally used for highly dangerous situations, but over time have come to be used in routine situations as the norm. There has been a wholesale increase in use of these tactical forces over time that should be cause for concern.
One report notes, "criminologist Peter Kraska found that as of 1997, 90 percent of cities with populations of 50,000 or more had at least one paramilitary police unit, twice as many as in the mid-1980s." Kraska notes that the increase is even more stark with cities below 50,000.
To show the type of increase that American cities have been experiencing in SWAT-related events, "By the early 1980s there were 3,000 annual SWAT deployments, by 1996 there were 30,000, and by 2001 there were 40,000." What does this mean for the average citizen? Because of the increased number and intensity of tactical-style events, it means that law-abiding citizens have something to be concerned about with potential problems related to excessive force, violations of rights, and even deaths of innocent people.
Trending: Undeniable Evidence: "The College Education System Is On The Fast Track To Destruction… An Obvious Sign Of Economic Crisis Waiting To Happen"
We can see that as SWAT-style police units become the norm, unintended results appear to be part of the picture. In too many cases, innocent people are shot and killed by overzealous police units who treat every situation as if it was part of a war. In fact, many SWAT members believe they are fighting a war (War on Drugs, War on Terror). The trouble with that mentality is there is also an unspoken take no prisoners motto as well. It's shoot first, then worry about results later, like the foreign battlefield.
take our poll - story continues below
Completing this poll grants you access to Freedom Outpost updates free of charge. You may opt out at anytime. You also agree to this site's Privacy Policy and Terms of Use.
In 1998, a SWAT team shot and killed a security guard in Virginia Beach, VA during a gambling raid. In 2006, in Fairfax, VA a SWAT team was used to serve a warrant on an individual for another gambling infraction. As the suspect came out of the house, one of the SWAT team officers' gun accidentally went off fatally wounding the suspect. Apparently, using the SWAT team to serve warrants is the norm in that area of Virginia.
In yet another situation, a SWAT team in Albuquerque, NM was called to the scene because a man was threatening suicide. After seeing the tactical unit, the man fled in fear for his life and was cornered behind a tree. At that point a SWAT member shot the man to death from 43-feet away. But wait, weren't they sent to try to save the man's life? Maybe they didn't get that memo.
The biggest problem with the growing use of SWAT teams is "introducing the military culture, military equipment, and the military mindset even to parts of the civilian police force not involved in SWAT teams or like paramilitary units."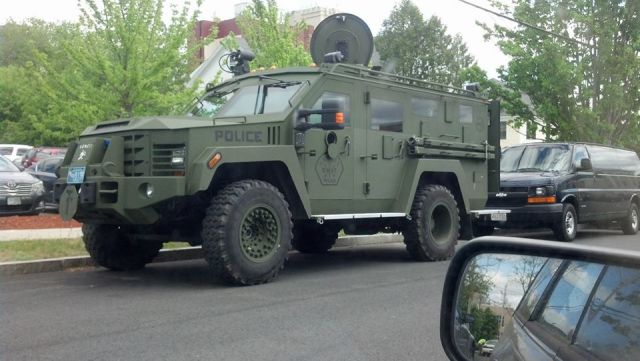 In a speech by Obama in July of 2012, he stated, "AK-47s belong in the hands of soldiers, not in the hands of criminals; that they belong on the battlefield of war, not on the streets of our cities." He obviously did not mean law enforcement, did he? What we are seeing on many of our streets throughout America is the use of the type of military-style equipment that is routinely used in Iraq or Afghanistan. We have light tanks or armored vehicles that roll through city streets.
We also see what appears to be soldiers with those dreaded "assault" weapons. During the aftermath of the Boston Marathon bombing, we know that police also went door to door removing people from their homes and then searching them and their homes illegally. They were in full tactical gear and used military-style vehicles as well. This type of reaction by law enforcement may make some people to feel safe, but it makes my blood boil, frankly.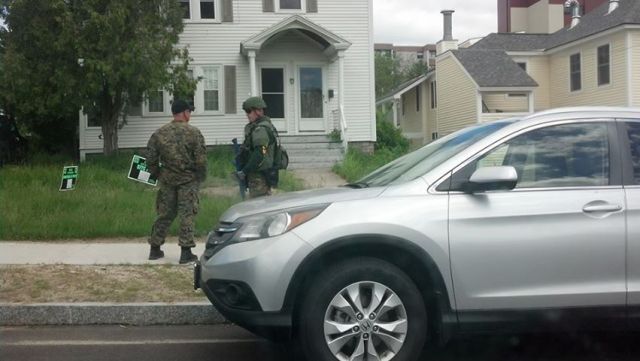 I have both friends and relatives in law enforcement. I understand the job they do is very difficult and dangerous. The problem though is that because of certain acts of Congress (as well as funding), law enforcement is turning America into a militarized zone. That does not make me feel safe. It makes me feel as though my rights are on the verge of being stripped at any moment…all in the name of "national security."
It smacks of martial law in the making. SWAT teams do not need to be sent out on suicide calls, neither do they need to be sent out on normal warrants or even minor drug offenses. They should be used as a last resort, not the automatic response. This is America and we have rights. Those rights are in effect and no SWAT team or other tactically-trained and armed law enforcement unit has the right to come into a neighborhood and simply eradicate people's rights because someone says they can and has given them the money to own military-style weaponry and gear.
Put simply, "soldiers are 'trained to vaporize, not Mirandize'." This happens too often, either by overzealous SWAT members with a trigger finger or by blasting into the wrong house. "Given that civilian police now tote military equipment, get military training, and embrace military culture and values, it shouldn't be surprising when officers begin to act like soldiers, treat civilians like combatants, and tread on private property as if it were part of a battlefield."
This is the biggest problem that results from the militarization of law enforcement. Cops acting like soldiers and seeing average citizens as the enemy. We'll be back soon with our third installment by trying to figure out what may be completely obvious. Where does it all lead?
* This is Part 2 in a three part series. Read Part 1 here. Read Part 3 here.
Don't forget to Like Freedom Outpost on Facebook and Twitter, and follow our friends at RepublicanLegion.com.
Become an insider!
Sign up for the free Freedom Outpost email newsletter, and we'll make sure to keep you in the loop.