Democrats continue to warn about the tsunami that will crush the GOP in November's midterm elections. They believe they will regain control of both the Senate and the House.
Generic Congressional polls were looking rather bleak for Republicans as recently as late December, however, the Democratic lead has dwindled in the last month.
The Real Clear Politics average of the Generic Congressional polls has tightened from a 13 point Democratic advantage in late December to its current gap of 6.7 points, a decline of nearly 50%. (This poll asks if voters would be more apt to vote for a Democrat or a Republican in their local congressional races if the election were held today.)
Trending: Duck Duck Go's far-left political donations and abuse of user data have users FUMING
take our poll - story continues below
Completing this poll grants you access to Freedom Outpost updates free of charge. You may opt out at anytime. You also agree to this site's Privacy Policy and Terms of Use.
It is common for the political party that controls the White House to lose seats in both chambers of Congress in midterm elections.
There have been two midterm elections when the party controlling the White House actually gained seats in both chambers (1934 and 2002).
There have been several midterms when the party of the president picked up seats in one or the other, however, it is generally expected that some seats will be lost in both the Senate and the House.
CNN's Chris Cillizza warns us that "the 2018 playing field is tipping toward Democrats big time…and it's going to be very, very problematic for Republicans."
Frankly, at this point, the House and Senate maps are showing that control of both chambers is a "coin-toss."
Please see CNN's updated House midterm map below.
The Solid (179), Likely (7) and Lean (8) Democratic seats plus all 20 seats in the toss-up column add up to 214 seats, which is just shy of the 218 seats required to gain control of the House.
This isn't exactly encouraging for Republicans, but it's highly unlikely that Democrats will win all of the 20 toss-up seats.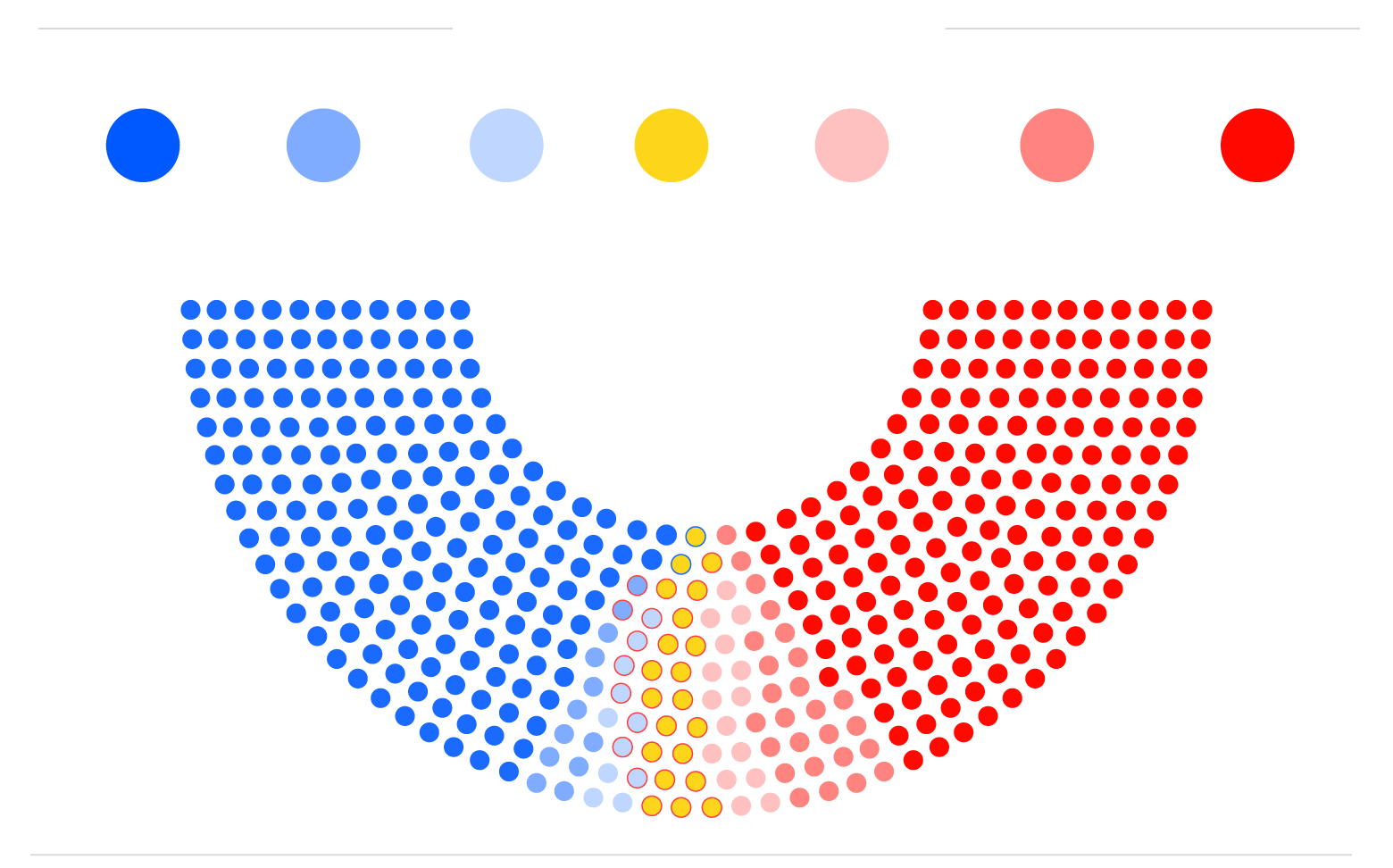 Please see CNN's Senate midterm map below. The balance of power in the Senate is currently 51 Republicans to 49 Democrats. There are 23 Democrats and 43 Republicans not up for election. After deducting those seats that lean one way or the other, we are left with five toss-ups. The Senate could really go one way or the other.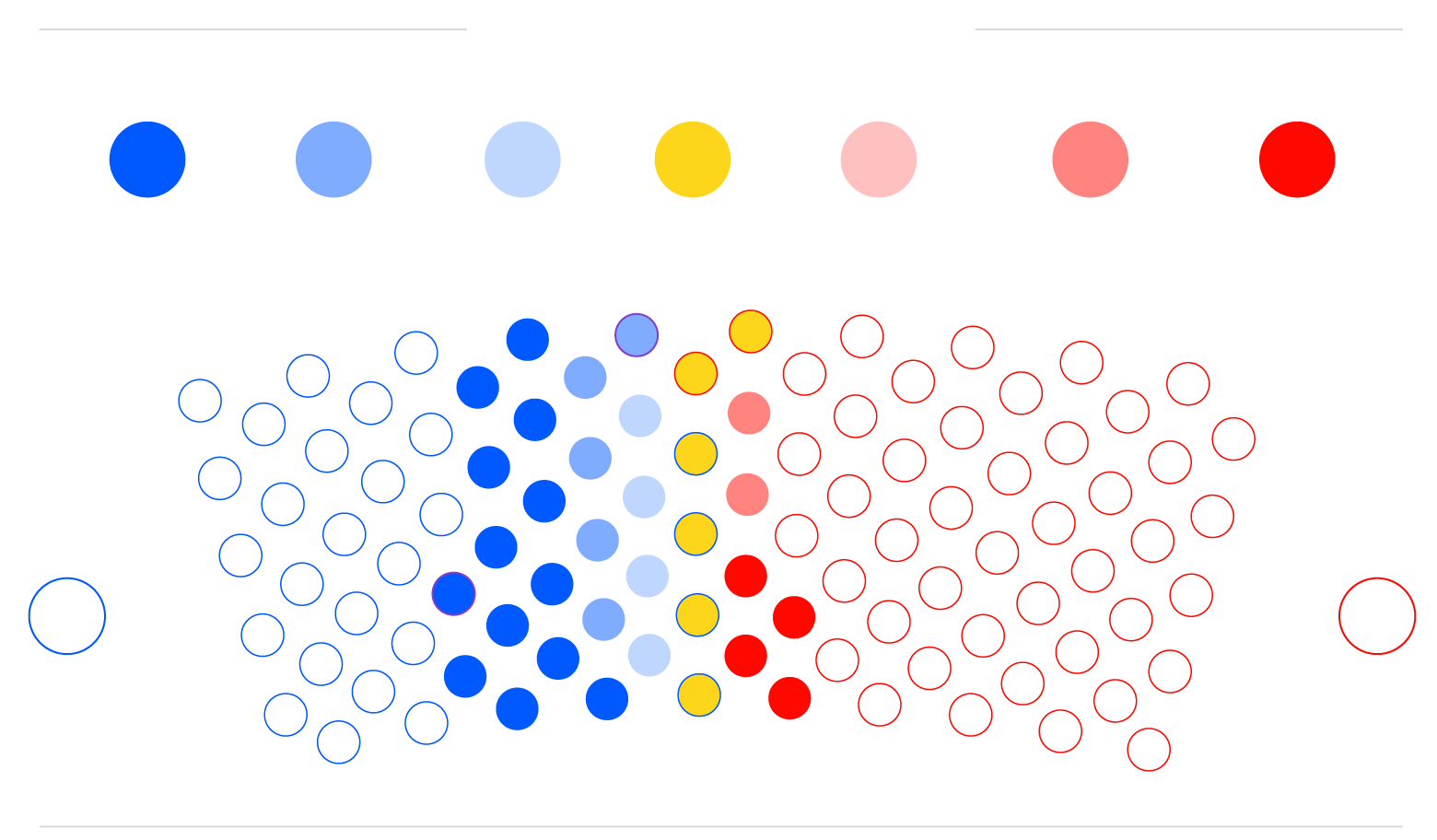 Cillizza cites as a major factor the Cook Political Report's recent movement of "21 House districts in favor of Democrats."
Cook House editor David Wasserman suggests that still might underestimate Democrats' ceiling in terms of seat gains this fall.
"Most new district-by-district fundraising and polling numbers are downright terrible for Republicans, even in seats previously thought to be safe," writes Wasserman.
"Those moves jibe with a series of changes CNN made to its own House ratings on Thursday — with a handful of Democratic incumbents moving off the competitive list entirely and several Republican incumbents — including New York's Claudia Tenney in more trouble. There are now 66 GOP-held seats on CNN's list of competitive races as compared to just 15 for Democrats. Cook rates 67 Republican seats as competitive as compared to just 25 for Democrats."
Cillizza informs us that this shift in sentiment is "fueled by remarkably successful fundraising by dozens of Democratic candidates –"
If that is true, then clearly House Democrats have seen more success in their individual fundraising efforts than the DNC has lately.
Cillizza adds: "and is an expansion of the ground where this election will be fought. And that expansion is entirely in Republican territory."
Of course, t is!
And finally:
"What that means in practical terms is that Democrats have more margin for error as they try to net two dozen seats. If a race they expected to be competitive suddenly collapses, it doesn't doom their chances as they now have 2, 3 or even 4 other seats to replace it."
What?
Another snapshot of what the midterms might look like comes from Larry Sabato, founder and director of the University of Virginia's Center for Politics and the publisher of The Crystal Ball, a site that "provides political analysis and electoral projections."
The Center for Politics consensus estimate of a Democratic majority in the House this November stands at 50-50. Their numbers were slightly better for Republicans than were Cook's Political Reports, although not materially so.
"Democrats benefit from the usual presidential party midterm drag, President Trump's lackluster approval ratings, and a flood of candidates. Republicans benefit from the overall House map and the presence of some strong incumbents in marginal districts, even after some key retirements have weakened the front line of their defenses."
For those who are interested in seeing possible specific paths to a Democratic victory (district by district), please click here.
The Center for Politics Senate map is currently showing 46 seats that either lean, are likely or are safely Democratic, five toss-ups and 49 seats in the lean, likely or safe Republican column. Their Senate map is identical to that of the Cook Political Report.
It is premature to make any meaningful projections at this point.
While rules of thumb favor the Democrats when the sitting President is a Republican, there are so many other factors that will contribute to the outcome.
It's quite possible that the allegations, if proven, made in the Nunes memo and backed up by the Grassley-Graham referral letter will hurt the Democrats.
It's also possible (I doubt it) that Mueller may find some wrongdoing by Trump in his investigation.
Democrats want to see a November wave so desperately. Control of the House would make it possible for them to impeach Trump, which is their dream.
However, even a slight Democratic majority in the Senate (which is the very best they could hope for) would most likely not allow them to oust Trump, because to do so would require 67 votes.
I sincerely hope that Republicans do not lose their majority in either the Senate or the House.
As mentioned above, a Democratic House would try and likely succeed in impeaching Trump.
It would put an end to the FBI/DOJ investigation, which would be a huge win for Hillary Clinton, Barack Obama, Jim Comey, etc.
It would become difficult or impossible for bills introduced by Republicans in either the Senate or the House to reach Trump's desk.
Trump's agenda would be blocked at every turn. And Nancy Pelosi would take her place again as the Speaker of the House. Ugh!
Any one of a thousand events could occur.
The point is that nine months is a long time in politics.
For Chris Cillizza or any journalist to warn us in February that the November midterm elections are going to be "very, very problematic" for us is simply wishful thinking.
Don't forget to Like Freedom Outpost on Facebook and Twitter, and follow our friends at RepublicanLegion.com.
Become an insider!
Sign up for the free Freedom Outpost email newsletter, and we'll make sure to keep you in the loop.